About DiDi handmade jewellery
After a demanding career in market research my husband and I moved to sunny Suffolk to be nearer his family. Having developed a passion for gardening and all things horticultural our new garden provided a whole new challenge. Again I pored over seed and plant catalogues, worked out colour schemes and drew and photographed the plants I particularly loved. I joined the local horticultural society, got an allotment and formed the Bungay Allotments and Gardens Society (still going strong, although the horticultural society, alas, is not).
So that was me - involved in the local community and gardening to my heart's content.
Until I discovered beads...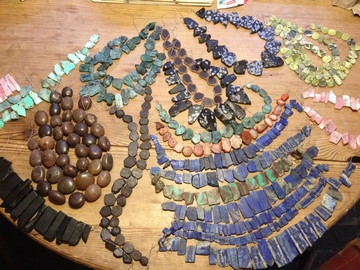 Raw semiprecious gemstones
Here was a whole new world of colour and texture and it wasn't long before I became hooked. Luckily I had the bare bones of the garden sorted because from then on it had to take care of itself. I'm still grateful that my former self had the foresight to plant shrubs and perennials that continue to delight me. My husband takes care of the grass and weeds.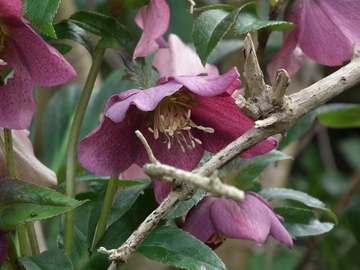 Hellebore in my garden
In the intervening years I've learned so much about gemstones, semiprecious gemstones, the history of beads, precious metals... I'm largely self-taught but I did take a silver-smithing course and watch the occasional YouTube video. But I prefer to play; sketching ideas then working out how I can make them come to life.
I made jewellery (and still make jewellery) for my friends and family but it wasn't long after I started that people told me I should be selling it. So I had some of my work in a local boutique for a while before decided to set up this website.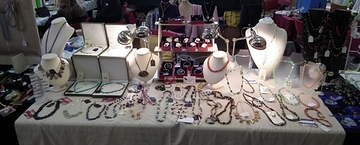 My jewellery at a craft fair
And I'm so grateful to my customers here for their support. I did have a 'sold" folder here for a while, but decided to take it down when the number of pieces sold began to outnumber the pieces I had for sale!
I'm still very involved with our local community. I served as a Town Councillor for eight years, was briefly a Feoffee, (town trustee), I was part of the team working to keep the library open and now I am on several committees - the local business association, the tourism association, the Festival committee and, coming full circle - I'm involved for the second time with the Bungay in Bloom team. Although this time I am co-ordinating, rather than planting and watering! And I do have two lovely granddaughters living nearby with their mum (my daughter) and dad. I really enjoy being in their lives and going on gossipy shopping trips with my daughter.
Oh - and I opened a shop.
This has left very little time for me to develop the silversmithing side of things - we have an outhouse that has yet to be turned into a studio. But I continue to be passionate about working with natural stone and my love of beadwork is growing as I become more proficient.
My contact details:
Didy* Ward
19 Flixton Road
Bungay
Suffolk NR35 1HQ
01986 893824
*Rhymes with tidy!