Sew contented
posted on 9 February 2011 | posted in Blog

---

Having been given Mastering Beadwork by Carol Huber Cypher for Christmas I spent the peaceful time between Christmas and New Year happily trying out new bead stitches.

I've always liked sewing (I have O level Needlework!) and combining that with my absolutely slavery to beads means that I was in heaven.

A few bracelets in various stitches later I was ready to try something more ambitious.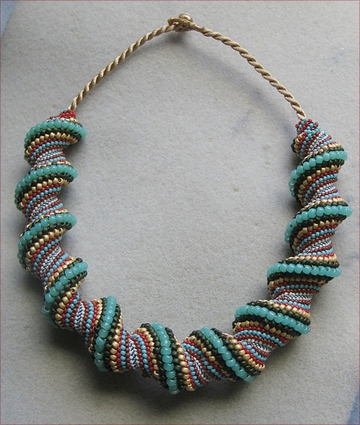 This is in cellini spiral stitch (or more properly - helix). The undulations are achieved by increasing the size of beads as you work round.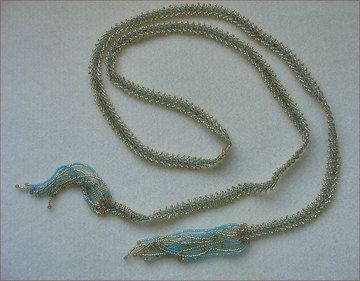 This lariat is in St. Petersburg chain stitch. One side is worked, then the other, using the central bead - in this case a czech glass crystal - added on the first side as the common bead for the second. Takes ages! I love how the blue beads look green in the rope, when juxtaposed with the gold beads. UPDATE: My daughter informs me that something very similar was worn by a fashionista on Gossip Girl! I'm so on-trend!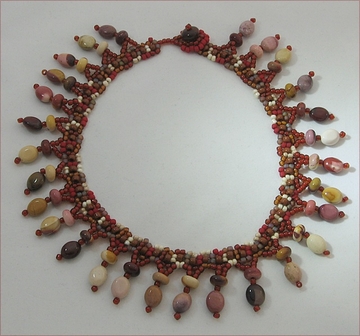 The mookaite drops were worked from a base of daisy stitch in complementary mookaite coloured seed beads. Quite an enthnicy or hippy feel to this one.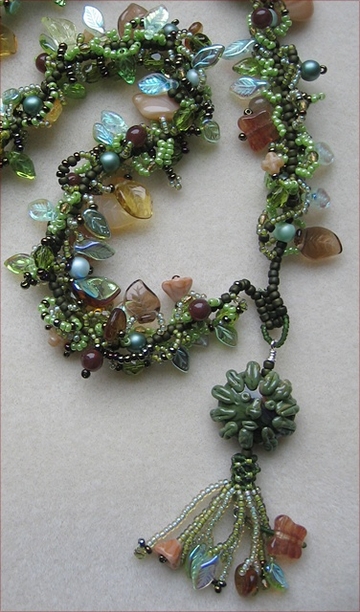 This is my piece de resistance so far! I couldn't resist the handmade lampwork glass Green Man bead (from Claire-Louise Patrick of Ciel Creations). He dangles from a necklace worked in spiral weave. I fashioned the leaf-shaped toggle clasp from a basic beaded teardrop pattern.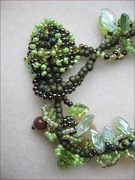 These will be on sale at the various craft and gift fairs I shall be attending this year. And who knows - if I do many more I may add a new category here! (Though my first love will always be those gorgeous semi-precious gemstones!