Expensive designer jewellery or affordable handmade jewellery?
Not long ago I bought a beautiful handmade bag, with handstitched embroidery, for a friend's special birthday. This was the gift that kept on giving. I enjoyed choosing the bag, the maker was pleased to sell one of her creations and my friend adored it.
But for many women, well-known brands confer security and status and they are keen to be seen in the latest "must-have" bracelet, necklace or earrings.
Don't get me wrong – I covet Cartier as much as the next person and if you gave me a Pandora bracelet laden with luscious beads, or a Tresor Paris friendship bracelet, or a Links of London Sweetie bracelet I would be chuffed to bits – but...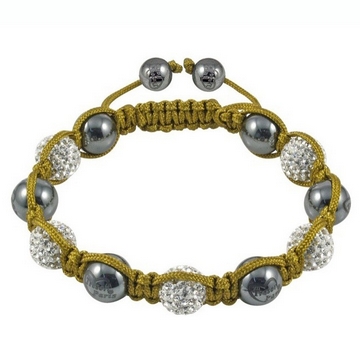 Tresore Paris Shambala Bracelet approx £149 on Amazon
.
But if it's the design rather than the designer label that floats your boat then you can't go wrong with shopping for unique jewellery from the wide range of jewellery designers you will find online and at craft fairs up and down the country, from contemporary silversmiths to fun fashion jewellery makers (or unique gemstone beaded jewellery right here at DiDi handmade jewellery!).
Or if you need something to go with a particular outfit, or your own friends appreciate your finding a necklace or pair of earrings that is just right for them, handmade is the way to go, especially if the designer is happy to make something especially for you.
.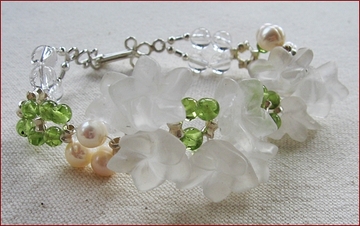 Handmade Peridot, Quartz, Pearl & Sterling Silver bracelet, DiDi handmade jewellery, £38
.
Of course I would love to see DiDi as a designer label stocked by all the top stores – but I would miss the personal touch, knowing that I have produced something unique for each person who buys from me. And I would hate that the prices would double or triple in order to meet the stores" overheads and profit targets!
But what do you think? I'd love to know! Email me at didyw@aol.com and I'll include all the best comments here on the website.