Beaded Beach Huts and other brooches...
posted on 4 April 2011 | posted in Blog

---
With this summer's craft fairs in Southwold in mind, and with increasing confidence in my bead-stitching abilities, I thought I'd have a go at beading some beach huts to make into brooches.

Experienced bead-stitchers can do amazing things with beads replicating old masters and even photographs in wonderful beaded pictures. I don't have the skill, time or even desire to do that (what would I do with a replica of Van Gogh's sunflowers in beads?) but I thought I could come up with a simple design for a beach hut. The idea is that the little beach hut picture will dangle from a kilt pin and make a wonderful memento for Southwold holiday makers.

This is what I have done so far: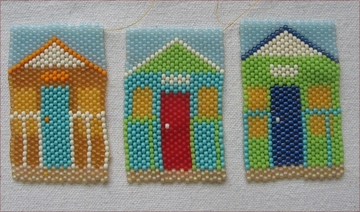 They have yet to be attached to kilt pins. Now my head is whizzing with ideas for different colour combinations...
UPDATE:
you can see more on my Facebook page:
www.facebook.com/didihandmadejewellery
. If anyone is interested in buying one they cost £10 each. Email me for details and to let me know what colours you would like:
didyw@aol.com
.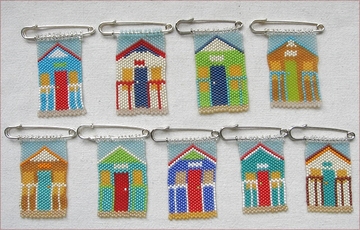 These are to be sold alongside my previous brooch craze - flower brooches:


I've made quite a few of these now - now it's just a question of which will be most popular - beach huts or flowers!