April 2009, All the Fun of the Fair
posted on 27 April 2009 | posted in Blog

---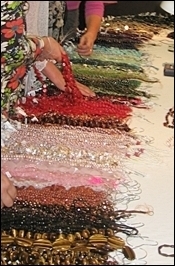 The day of the Norwich Bead and Textile Fair arrived after much anticipation, and my sister in law, Chris, and I set off with glee. It was a beautiful spring day - sunny blue skies picking out the masses of pale yellow primulas which lined the banks on the drive out there. We took the pretty route through the villages in all their pink blossomed glory when we suddenly spotted a darling little bluebell wood, with the masses of bluebells appearing as a pale blue mist, weaving itself beneath the trees.

Nature's lovely spring colours were just the appetizer though - the feast was at the show itself where all the stands had strings and strings of pretty shiny sparkling things in all the colours of the rainbow!

We first reconnoitred with Chris's sewing circle buddies in the car park before heading off to rummage and scrummage and to meet our favourite stall holders.

I headed off to the Fyrebirds stand where local lampwork artists Trudi and Shirley had set up shop. The Fyrebirds do wonderful things with glass, producing the loveliest beads and I couldn't resist buying a couple of sets, which I hope to be able to do justice to! They will be making their appearance here soon...

There were so many beads - glass beads, clay beads, seed beads... For someone with jackdaw tendancies it was all soooo tempting!

But yesterday it was the semi-precious stones that were calling me and I spent much time looking lovingly at all of the strings of gorgeous gems. (And buying a few it has to be said!). I wasn't alone of course. I kept bumping into one lady as we continued to return to the Buffy Bead stall (where they had come up from Colchester), as we mused and pondered.

The 'wow' factor of the day though had to be Vivid Trading run by Norfolk based Sarah Corbett. Sarah works with artisans in Morocco where she has set up a co-operative to enable Moroccan craftsmen to replicate the precious antique Berber tribe silver beads (now museum pieces) in base metals so that we may wear and enjoy them. The metals used are not silver, but they are nickel free and the designs are just breathtaking. Her craftsmen also make beads from recycled glass and from resin, using a couscous base, resulting in lovely smooth beads that look like ancient opaque amber. Sarah also sources antique beads and she has a wide selection of antique Venetian millefiori beads in primitive but vivid colours. I am already thinking of my next collection so that I can incorporate some of these delicious beads in my work!

Chris and I will be having a stall at our local craft fair in the summer. Chris likes to work with seed beeds and has a wonderful eye for striking colour combinations. Zoe, a seed bead weaver, makes beautiful delicate pieces in tiny seed beads and she will be joining us on the stall. I, of course, will be there with my semi-precious pieces (but fully precious to me and my customers!). We all met up for coffee and cake to talk about what we had bought and asking each other which stallholders took credit cards...

I had set myself strict budgetary limits so after a final look around we left, popping into my mother in law's (Chris' mum) for a cuppa and to show her our treasures, on the way back home.

Chris and I are already planning our next jaunt - Colchester's two bead shops were each at the show, one specialising in seed beads, the other in semi-precious. I have the train timetable...