The World Famous Chicken Roundabout
posted on 21 February 2013 | posted in Blog

---

Long before we moved to Bungay we were visiting various relatives in the area and one of the things we loved about driving from Norwich through Bungay to Halesworth was passing the Chicken Roundabout at Ditchingham.




We enjoyed seeing the live chickens that lived there, on the verges, on the roundabout itself, and, at dusk, roosting in the trees. So rural!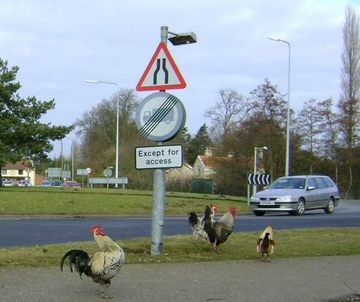 chickens at Ditchingham roundabout
After moving here we learned that the chickens had been there for many years, even before the roundabout was built and the old railway was there, where the A143 is now. It seems they originated from a smallholding at that site, learning to fend for themselves after the old lady who owned it died. They were helped by the fact that there was a Maltings there - plenty of grain for them.
Over the years their population rose and fell as, with the bird flu scare people dumped chickens there. And there was more chicken dumping as those who bred for showing got rid of their excess cockerels by putting them at the roundabout.
But gradually their numbers fell as locals urged the council to put poison down for the rats the chickens attracted which invariably also poisoned some of the chickens. They were also prey to rustlers who would take them to feed their dogs - or themselves!
Most visitors to the area would not be aware of the problems, they would just see flocks of delightful chickens wandering about the verges and on the roundabout. Locals would point them out to visitors. We delighted in showing them to our granddaughters when they first visited.
And they were loved. A local saint, by the name of Gordon Knowles, would walk over a mile from Bungay up to the roundabout every day with his wheelbarrow full of grain for them. Alan Gaskin created a 'Chicken Roundabout" game - which is still available. And local Tom Honeywood wrote a story about them, with proceeds from the book going to the local hospital.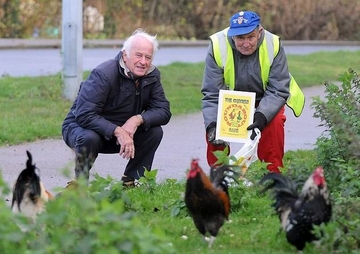 Alan Gaskin (left) and Gordon Knowles (holding game)
But times change. The old maltings had long stopped being a maltings and is now being developed as an apartment block. The numbers of chickens dwindled to an unsustainable few and were rehomed for their own wellbeing. Gordon, aged over 80, retired.
But the roundabout is still known as Chicken Roundabout and now a group of people (including yours truly) is campaigning to place chicken-sized, chicken-shaped black metal silhouettes on the roundabout to commemorate them and to keep Chicken Roundabout alive.
The campaign has attracted lots of support from individuals and the local media. And today I was interviewed by Anglia TV for their local news slot.
Will we be successful with our mission? Watch this space!
Update May 2015: Sadly the campaign came to nothing. The local parish council were the ones who needed to apply to the County Council for a licence for street furniture - which is what any statue would be deemed as. And they were unwilling to do that. The council itself was divided on whether it would be a good idea and their chairman even advocated the return of live chickens! He was alone in this view but it did mean that without a consensus our campaign was doomed. People still occasionally dump unwanted fancy chickens on the roundabout and they are swiftly removed by kind hearted souls who know they could not survive there and rehomed.