Earsham Hall May Fair
posted on 18 May 2010 | posted in Blog

---
After a week of beautiful spring weather the wind turned but we managed to get the tent up between the showers the day before and it stayed up (just!) for the May Fair at Earsham Hall on the first Bank Holiday of the month.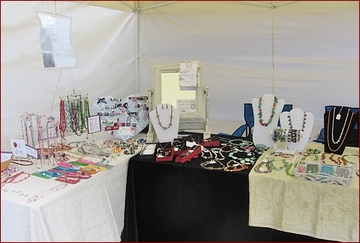 We are frequent visitors to Earsham Hall - they are famous hereabouts for their antique and pine furniture, lovely tea-rooms, farmers markets and the craft and food fairs they hold in May and just before Christmas.
Earsham Hall is a fine building, dating back to the fifteenth century. It is set in expansive grounds, high above the village of Earsham, which is within walking distance of Bungay. Two of its original timber framed buildings still exist. Although now encased in brickwork (of a lovely russet colour), the original frames can be seen inside the buildings, which make a beautiful setting for the antique furniture, where you can wander from room to room, up and down steps, floorboards creaking as you go.
The Hall was owned by various noble families until it became a boarding school during the middle years of the 20th Century - a friend of mine taught there before he retired - before being sold to its present owners in 1975.
The May Fairs have been running for six years, but this was my first there as an exhibitor, and, despite the wind and my fears for the tent, it was a very enjoyable day.
There were clowns, Morris dancers, bouncy castles, a dog agility course and a traditional Punch and Judy. Yes, Judy got whacked and the baby got sat upon by Mr. Punch! My granddaughters loved it!
Craft Fairs are a great way for those of us who work from home and sell mainly via the internet to get out and about, meeting people face to face and learn what they like. My new 'DiDi Girl" range, created just for the fairs I am doing this year, is popular with little girls and it gives me the opportunity to work with new beads – seed beads, sparkly beads, bumpy beads – all sorts!
The fair raised over £2,000 for the leukemia research project it was sponsoring this year and I'm happy that the black onyx earrings I donated to the raffle were part of that!