Mary's Fashion Show
posted on 15 May 2009 | posted in Blog

---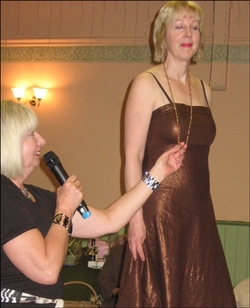 The local flower club wanted to raise funds for the flowers that two of its members will be using for their entry at the Chelsea Flower Show next week, so they invited Mary, who runs the Four Seasons boutique, to put on a Fashion Show.

Mary invited me along to give a little talk about jewellery making in the interval, and to display some of my pieces. As Mary also sells some of my jewellery in her shop, it was much in evidence on the catwalk too. She had teamed my gold pearl rope with a beautiful bronze dress and they looked stunning together. I noticed that Mary was herself wearing a black agate and Swarovski crystal bracelet of mine.

Mary's friend was the first to buy this bracelet and Mary asked me to make one for her. But I'm not allowed to make any more - they want total exclusivity!

Ladder bracelets are a fun way to show off the beauty of the beads and they are wide enough to make an impact but not too heavy, so easy to wear. There are a number of them in different styles on this website.

Back to the Fashion Show - the piece de resistance was a lovely silk mother of the bride out fit in grey with a purple design and just a touch of blue. I made a necklace and earrings in silver, amethyst and aquamarine especially for it and when the model came down the catwalk there was an audible gasp from the audience.

It was fun. Mary likes to use models of all ages and shapes - so we can see that her clothes are for all of us. It really works and I would love to see the fashion mags following suit.

The ladies appreciated being able to see my jewellery too. There is nothing like being able to pick the pieces up, feeling the stones and trying them up against you. Semi-precious stones are so tactile - such a pity that this is the one quality that you can't get across online!