River Waveney in Winter
posted on 6 January 2010 | posted in Blog

---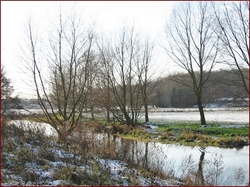 With my family all staying with us for a few months after the Big Move from Spain, the summer vanished in the twinkling of any eye.

Nice to have a house full but also nice to have the house to ourselves again, allowing me to do what I really love doing - working with fabulous semi-precious stones and thinking about the wonderful countryside we have around here.

Especially in winter and especially after a snow fall. Of course everywhere looks wonderful dressed in a soft blanket of white but being so close to the river Waveney and the large and unspoilt Outney Common which it borders, we are lucky to be able to enjoy a beautiful winter landscape practically on our doorstep.

I love the snow and the dark wintery colours and silhouttes thrown up by the low sun. I am particularly drawn to iolite and kyanite - all those mysterious inky blues. The deep dark browns of the bare tree branches and the flashes of colour highlighted by a bright morning sun. Where others reach for their paint palettes I reach for my beads to try and paint my own pictures. Today I have been working with smoky quartz and - warmer browns, like a crackling fire on the allotment, tiger's eye and amber.

Let it snow! Let the world stop in wonder for a moment before we all career headlong again into our oh so busy lives!