March 2009, Walberswick
posted on 4 April 2009 | posted in Blog

---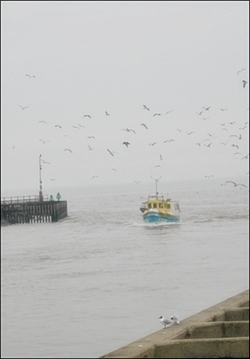 We wanted to do something low key but special for my birthday, so we took ourselves off to Walberswick, the pretty village lying on the other side of the Blyth river estuary from Southwold.

It was a warm spring day, but overcast and a weekday, so we knew there wouldn't be many other visitors there. In fact we saw only one other couple on the beach, laughing and throwing stones to see whose would go the furthest. We said hi as we walked past and asked who was winning!

I wanted to take some photographs to try and capture the colours and textures that make Walberswick so special.

Apart from a few shops selling upmarket tourist knick-knacks, the village retains an old-fashioned character with its black-tarred beach huts, lying behind the dunes. Very different from its classy Southwold neighbour!

There is a freshwater tributory that feeds into the river Blyth, thickly lined with tawny coloured rushes and reeds, which keeps the water sparkling and clear. Then up and over the dunes - and there is the sea. Yesterday it was calm and flat, a greyish-blue colour and barely distinguishable from the sky.

The colour reminded me of blue amazonite, but, with no sun (which was shining brightly back in Bungay!), the sparkle amazonite has was missing.

We walked along the beach towards the harbour and were pleased to arrive there at the same time as some fishing boats were coming home, signalled by the flocks of seagulls swooping around them, jostling for their fish-guts supper! We mused about how far the fisherman have to go to get their catch and what a tough life they have. But it is a dying industry, with fewer and fewer boats going out each year.

The creek, with Southwold harbour on one side, Walberswick on the other, is lined with boats of all kinds. There were a couple of old rowing boats, gradually fading into the water, like ghosts of older, busier times.

Walberswick is not too far from where we live and is a favourite haunt. We always take visitors there and in the summer it is a very different place, with streams of cars turning off the busy A12 and making their way along the narrow country road that leads to the village. You can get to Southwold from there too, but not by car! A charming row-boat ferry makes the journey across the creek every hour, or a good walk along the creek brings you to a bridge. And then, a hike across the common brings you to the town of Southwold. Thats another visit, on another day.

Walberswick is famous for its annual crab-fishing championship loved by children of all ages, dipping their bacon-fat strings into the creek and hauling out the little nippers for their buckets! The feel of the village then is lively and colourful, unlike the wistful blues and greys of an overcast day in late March!

I took some lovely photographs though: rusty iron boat chains, bright yellow gorse, deep emerald green seaweeds and old black wooden groyne posts, looking like battered soldiers limping in from the sea. These will all be interpreted in kyanaite, amazonite, aquamarine, moss agate, iolite...